Pu'uawai, 'Ike, Na'au, & Kino
Core Elements: P`INK & Wahine Wa'a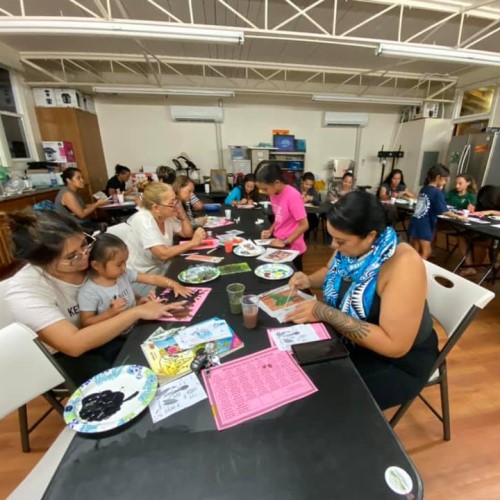 Wāhine (women) suffer from higher rates of poor mental and emotional health compared to men. This is the result of increased rates of sexual violence, domestic violence, and psychological stress caused by their increasing multiple roles in family and gender discrimination in society. Project PʻINK establishes a contemporary hale peʻa (menstrual house) to support healing and bridging connections with self and other wāhine using hana noeʻau (art) and the PʻINK approach to mental health. In wā kahiko (old times), Native Hawaiian wāhine entered into hale peʻa for rest and relaxation during their menstrual cycle. In hale peʻa wāhine would fellowship with each other away from their kuleana (responsibilities). Rest, relaxation and healing amongst other women would allow them to return to their kuleana. Our goal through Project PʻINK is to provide a safe space for wāhine to explore their true identity, away from all of the physical, emotional, and mental stress that wāhine today face daily.
The first Project PʻINK was developed by Dr. Ischmael Stagner for incarcerated wāhine and funded by Liliʻuokalani Trust. The program then grew to work with widowed wāhine. Today, PʻINK addresses wāhine's holistic health through the facilitated exploration of their Puʻuwai (heart, emotional health), ʻIke (knowledge, intellectual health), Naʻau (gut, of the heart and mind, mental health) and Kino (body, physical health).  Through biweekly sessions, Project PʻINK has been able to create a puʻuhonua (place of refuge) for wāhine to learn, grow and heal.  A place where wāhine can learn indigenous and modern forms of hana noʻeau.  A place to learn how to be comfortable with their true selves.
As an extension of Project PʻINK, Wahine Wa'a will instill confidence and drive in wahine through the art of canoe sailing. Learning the science behind the winds. moons, stars and the tides will help develop pride on todays mana wahine. This project is scheduled to begin in 2022. 
For the most up to date schedule & information follow them on social media
Donate to our cause and help to fund the many programs we offer through Ke Kula Nui O Waimanalo. Use the secure donation button below and complete your payment via Paypal.
Thinking of Volunteering?
Fill out our Annual Waiver FIRST

See the "Sign our waiver" widget below.